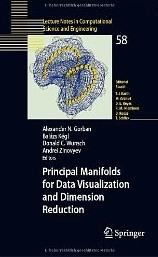 Principal Manifolds for Data Visualization and Dimension Reduction (Alexander Gorban, Balázs Kégl, Donald Wunch, Andrei Zinovyev (eds.)) (Amazon link, whole book text)
Lecture Notes in Computational Science and Engineering, Vol. 58 Springer, November 2007, 340 pages
In 1901, Karl Pearson invented Principal Component Analysis (PCA). Since then, PCA serves as a prototype for many other tools of data analysis, visualization and dimension reduction: Independent Component Analysis (ICA), Multidimensional Scaling (MDS), Nonlinear PCA (NLPCA), Self Organizing Maps (SOM), etc. The book starts with the quote of the classical Pearson definition of PCA and includes reviews of various methods: NLPCA, ICA, MDS, embedding and clustering algorithms, principal manifolds and SOM. New approaches to NLPCA, principal manifolds, branching principal components and topology preserving mappings are described as well. Presentation of algorithms is supplemented by case studies, from engineering to astronomy, but mostly of biological data: analysis of microarray and metabolite data. The volume ends with a tutorial "PCA and K-means decipher genome". The book is meant to be useful for practitioners in applied data analysis in life sciences, engineering, physics and chemistry; it will also be valuable to PhD students and researchers in computer sciences, applied mathematics and statistics.

This book is accompanied by highly recommended site pca.narod.ru (in Russian)

Together with editing, in this book I contributed to writing three chapters:
Elastic Maps and Nets for Approximating Principal Manifolds and Their Application to Microarray Data Visualization (with Alexander Gorban) (PDF)
Principal manifolds are defined as lines or surfaces passing through "the middle" of data distribution. Linear principal manifolds (Principal Components Analysis) are routinely used for dimension reduction, noise filtering and data visualization. Recently, methods for constructing non-linear principal manifolds were proposed, including our elastic maps approach which is based on a physical analogy with elastic membranes. We have developed a general geometric framework for constructing "principal objects" of various dimensions and topologies with the simplest quadratic form of the smoothness penalty which allows very effective parallel implementations. Our approach is implemented in three programming languages (C++, Java and Delphi) with two graphical user interfaces (VidaExpert and ViMiDa applications). In this paper we overview the method of elastic maps and present in detail one of its major applications: the visualization of microarray data in bioinformatics. We show that the method of elastic maps outperforms linear PCA in terms of data approximation, representation of between-point distance structure, preservation of local point neighborhood and representing point classes in low-dimensional spaces.
Beyond The Concept of Manifolds: Principal Trees, Metro Maps, and Elastic Cubic Complexes (with Alexander Gorban and Neil Sumner) (PDF)
Multidimensional data distributions can have complex topologies and variable local dimensions. To approximate complex data, we propose a new type of low-dimensional "principal object": a principal cubic complex. This complex is a generalization of linear and non-linear principal manifolds and includes them as a particular case. To construct such an object, we combine a method of topological grammars with the minimization of an elastic energy defined for its embedment into multidimensional data space. The whole complex is presented as a system of nodes and springs and as a product of one-dimensional continua (represented by graphs), and the grammars describe how these continua transform during the process of optimal complex construction.
The simplest case of a topological grammar ("add a node", "bisect an edge") is equivalent to the construction of "principal trees", an object useful in many practical applications. We demonstrate how it can be applied to the analysis of bacterial genomes and for visualization of cDNA microarray data using the "metro map" representation.
PCA and K-Means Decipher Genome (with Alexander Gorban) (PDF)
In this paper, we aim to give a tutorial for undergraduate students studying statistical methods and/or bioinformatics. The students will learn how data visualization can help in genomic sequence analysis. Students start with a fragment of genetic text of a bacterial genome and analyze its structure. By means of principal component analysis they "discover" that the information in the genome is encoded by non-overlapping triplets. Next, they learn how to find gene positions. This exercise on PCA and K-Means clustering enables active study of the basic bioinformatics notions. The Appendix contains program listings that go along with this exersice.