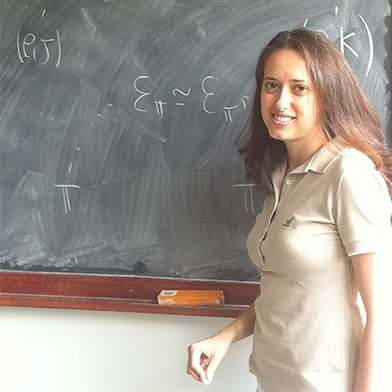 Olivia Caramello, mathematician
Israel Gelfand Chair in mathematics
Olivia Caramello is a mathematician working as Associate Professor at the Università degli Studi dell'Insubria in Como. Her research focuses on investigating the role of Grothendieck toposes as unifying spaces in Mathematics and Logic.
The main contribution of Olivia Caramello has been the development of methods and techniques for transferring information between distinct mathematical theories by using toposes.
After obtaining her Ph.D. in Mathematics at Trinity College – University of Cambridge (2009), she worked as a post-doctoral researcher in various renowned institutions, such as at the Centro di Ricerca Matematica Ennio De Giorgi of the Scuola Normale Superiore (Pisa), Jesus College – University of Cambridge, the Max Planck Institute for Mathematics (Bonn), the IHES and the Université de Paris VII.
Olivia Caramello is the author of the book "Theories, Sites, Toposes: Relating and studying mathematical theories through topos-theoretic 'bridges'" (Oxford University Press, 2017).
AILA Prize (2011)
L'Oréal-UNESCO fellowship for Women in Science (2014)
"Rita Levi Montalcini" position of the Italian Ministry of Education, University and Research (since 2017)
Videos
All professors