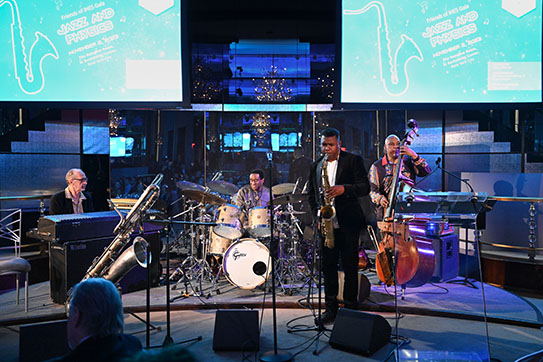 Record-breaking 2023 Gala on Jazz and Physics
More than 220 people gathered at the iconic Rainbow Room at Rockefeller Center on November 2nd for the 2023 Friends of IHES Gala celebrating Jazz and Physics.
Thanks to the generosity of gala sponsors and guests, over $1,220,000 were raised in both gifts and pledges, reaching a new record in the history of the Friends of IHES galas.
Following the cocktail, guests were greeted by Marcus Miller, the Master of ceremonies, who ensured that every moment of the evening was unforgettable. While the gala was under the high patronage of Laurent Bili, Ambassador of France to the United States and Jérémie Robert, Consul general of France in New York, it is Damien Laban, Deputy Consul general of France in New York, who delivered the inaugural speech of the evening.
A professional tenor saxophonist and a cosmologist, Stephon Alexander then delivered a captivating speech about Jazz and the Musical Spheres, before offering the audience a very unique musical performance, along honorary guest performers Will Calhoun, Santi Debriano, and Hector Martignon, who were also joined for a couple of songs by Marcus Miller. Together, their talent and unwavering passion seamlessly united the worlds of physics and music.
Jim and Marilyn Simons, co-Chairs of Friends of IHES, also encouraged the guests to contribute to the Friends of IHES endowment fund by offering to match all donations made during the call to action led by auctioneer Lydia Fenet. Over $450,000 were raised just towards this goal, after much excitement around the exclusive auction items that were proposed. Special thanks to X, Moonshot Factory, SETI, Unistellar, Will Calhoun and his band the Living Colour as well as to Stephon Alexander for their contributions to this auction.
Friends of IHES and IHES thank all the gala donors who made this exceptional event possible. Special thanks to the Simons Foundation International, gala underwriter, and thank you in particular to Societe Generale, Premier Sponsor, as well as other gala sponsors, including Jump Trading, David Faucon, XTX Markets, BNP Paribas, Bristol Assurances, Michael R. & Nina Douglas, Ross Garon, Kavita Shah & Benjamin Servenay, Bloomberg, Ipsos, as well as Farida Khelfa & Henri Seydoux. Thanks also to gala benefactor, William R. Hearst III, for his support.
A very warm thank you to all the donors and supporters, whose contributions to Friends of IHES and to its endowment fund during this gala have a direct and lasting impact on international scientific conversation and freedom of research.
Discover the photos from the gala on the dedicated website here!