Being a private institution, IHES needs to differentiate its sources of funding in order to assure its functioning and its scientific development. Your generosity can guarantee our research freedom.
Major donors
IHES sincerely thanks all its major donors for their exceptional generosity and trust.
Marilyn & James H. Simons and the Simons Foundation
Schlumberger
Caisse des Dépôts et Consignations
Fonds AXA pour la recherche
Huawei Technologies France

BNP Paribas
Airbus Group
Alix & Marwan Lahoud
Société Générale
Saint-Gobain
The John and Cynthia Reed Foundation
EDF
Margaret and William R. Hearst III Foundation
ENGIE
Total
Fondation Bettencourt-Schueller
Florence Gould Foundation
Robert Penner
Klaus Tschira Stiftung gGmbH
Nippon Information Industry Corp.
Richard Lounsbery Foundation
Nokia – Bell Labs
Meyer Foundation
Flora Family Foundation
S.S. Chern Foundation for Mathematical Research
Florence & David Faucon
Pierre Deligne
K.C. Wong Education Foundation
Famille Lanford
Barbara Amonson & Vincent Della Pietra
Maxim Kontsevich
Brin Foundation
The William and Flora Hewlett Foundation
Orange
Bull
Donors Circle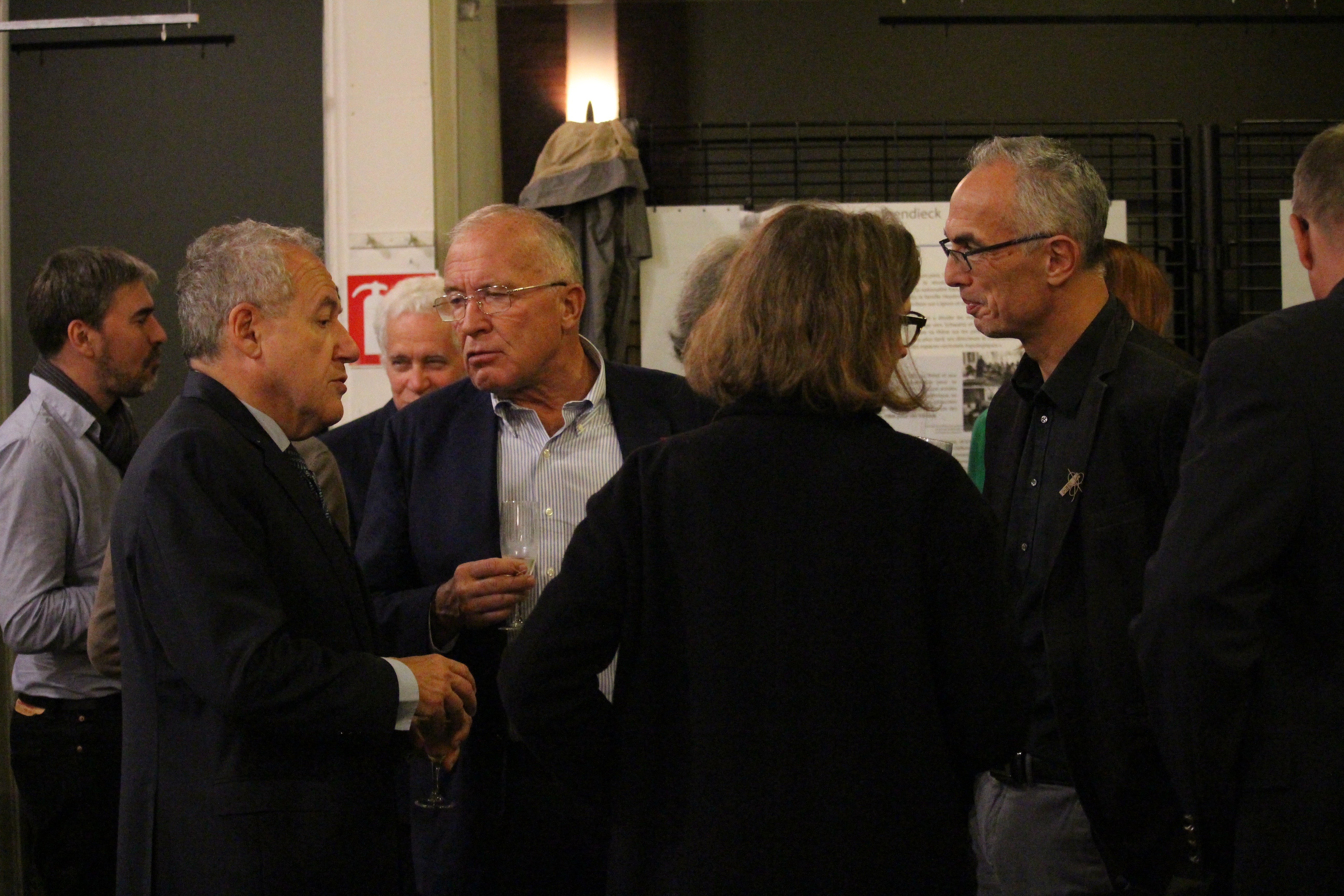 Within the framework of its new fundraising campaign, the Institute created the Cercle des Mécènes. This exclusive club aims at gathering individual donors and organisations that share a strong interest for science. Its members contribute to the spreading and strengthening of the Institute's values: excellence, freedom, interdisciplinarity.
Being a member of the Cercle des Mécènes of IHES means contributing to the development of fundamental research by supporting the peculiar model of IHES. It is also a way to create a special relationship with the Institute, including the possibility to interact with researchers and offering extraordinary access to the Institute, according to your needs.
Members of  the Donors Circle

Airbus
Philippe Camus
Pierre J. Martin (Bristol Assurances)
Pierre Masai
Rafaut
Jean-Claude Trichet
To know more on how to join the Cercle des Mécènes and on the recognition program for its members, please download the brochure (in French only) or contact Claire Lenz (claire.lenz@ihes.fr).
2019 Donors
IHES is grateful to all the donors that supported the Institute in 2019.
Léon Motchane Circle
BNP Paribas (gold)
Huawei Technologies France (gold)
Simons Foundation (bronze)
IBM France (bronze)
Léon Motchane Club
K.C. Wong Education Foundation (bronze)
ADL Partner ∞ (bronze)
Individuals
Club Léon Motchane
(bronze)
Eric Chaney ∞
Odile Jacob
Jean-Claude Trichet ∞
Club des donateurs
Bruno Berthet ∞
Nicolas Bouchardie *
Jérôme & Anne Brun ∞
Mathieu Capovilla ∞
Jacques Chambert-Loir ∞
Dominique Copin
Marc Demol ∞
Philippe Lagayette ∞
Hargues Luc Lapadu ∞
André Lévy-Lang ∞
Félix Mayer ∞
Isabelle Petit
Pierre Ragon ∞
Olivier Reboux ∞
Benoît Roth ∞
Mireille Rousseau ∞
Jean Ruff ∞
Frédéric Sgard ∞
Donors
Michel Agin ∞
Jean-Pierre Alix
Martine Apffel
Daniel Bancel ∞
Christine Barroux ∞
Daniel Barsky ∞
François Bastien ∞
Kamel Ben-Naceur ∞
Odile Berger
Robert Bernier ∞
Gérard Blanc ∞
Marc Boulinguez ∞
Vincent Bourges ∞
Jean-Claude Bourgoin
Frédéric Brassart ∞
Vincent Briday ∞
Marie Caillat *
Guy Canet ∞
Jean-Robert Castany
Bernard Chaumet
Alain Clavelou ∞
Philippe Clermont
Maurice Combes ∞
Gilles Cosson ∞
Jean Cougnard
Jacques Dadu ∞
Gilles Daquin ∞
Michel David
Patricia David
Jean Louis Debise ∞
Isabelle Demachy-Vacus ∞
Guillaume Dené
Marie-Pierre Desnoyers ∞
Quang Vinh Dinh
Jacques Divol ∞
Frédéric Duthilleul ∞
Bernard Equer ∞
Pascal Etienne ∞
Patrick Fayard
Jean Fontaine *
Jean Ginibre ∞
Thierry Girard ∞
Henri Giraud
Hans Glattli ∞
Gérard-Philippe Grandjean ∞
Alain Grigis ∞
François Gros
Alain Guichardet ∞
Colette Guillopé ∞
Alain Hervé ∞
Olivier Herz
Patrick Hinge
Dominique Hoestlandt
Michel Horny ∞
Michèle Housez
Taha Husseini ∞
Jean Iliopoulos ∞
Michel Jerosolimski ∞
Vincent Jupin ∞
Régis Juvanon Du Vachat ∞
Richard Kerner
Jean-Louis Lafaysse ∞
Serge Lapidus ∞
François Laudenbach ∞
Yves Le Bars ∞
Anne-Yvonne Le Dain
Yves Le Duigou ∞
Claude Le Rigoleur ∞
Bernard Lelion ∞
Fabien Lombard ∞
Yoshiaki Maeda ∞
Stefano Marchiafava ∞
Jean-Paul Marinier
Frank Martin ∞
Jean-Claude Maury ∞
Thérèse Michel
Samy Mizrahi ∞
Pascal Monet ∞
Dominique Morin ∞
Philippe Mussi
Michèle & Cyrille Pavlin ∞
Vincent Pico
Albert Polombo ∞
Jean Pradines ∞
Antoine Prouff ∞
Pascal Prouff ∞
Bernard Ravier ∞
Paul Henri Rebut ∞
Sylvie Retailleau ∞
Bernard Rey ∞
Serge Ribeyre ∞
René Ringot ∞
Jacques Rivaillier
Jean-Paul Rocquet
Philippe Roncati *
Alain Rondest
Alice Rotival
Pierre Sagniez
Philippe Sardin
Olivier Sautret ∞
Marcel Sens
Lucien Setton ∞
Jacques Silvy
Jean-Paul Taché ∞
Jean Teyssere ∞
Michel Théra ∞
Jean Tournier ∞
Nikolaos Tsamis
Danièle Uhart
Pierre Vallet ∞
Jérôme Verdun ∞
Alain Verglas ∞
Jean Verne ∞
Didier Virely
Michel Waldschmidt ∞
Jean Wieviorka ∞
Catherine De Montlibert-Dumoulin ∞
Louis Moreau De Saint Martin ∞
Yvette Kosmann-Schwarzbach ∞
Professors and former invited researchers
Donors Club

Ion Filotti ∞
Gilles Pisier ∞
Donors
Franz Bingen ∞
Jürg M. Fröhlich
Degtyarev Alexander
Alexei Glutsyuk
Lawrence Horwitz ∞
Luc Illusie ∞
Boris Jilinski ∞
Yasuyuki Kawahigashi
Arthemy Kiselev ∞
Matveev Sergei
Dieter Mayer
So Okada
Jan Schepers ∞
Ken Ichi Shinoda
Matteo Sommacal ∞
Michael Temkin ∞
Kirill Zaynullin
* New donor
∞ Loyal donor (3+ years)
IHES makes every effort to ensure that this listis accurate. However, should you find any mistakes, we apoligise and kindly ask you to let us know.