1 two-year postdoctoral fellowship -3 Six-Month Fellowships for combined stays at IHES and IHP­­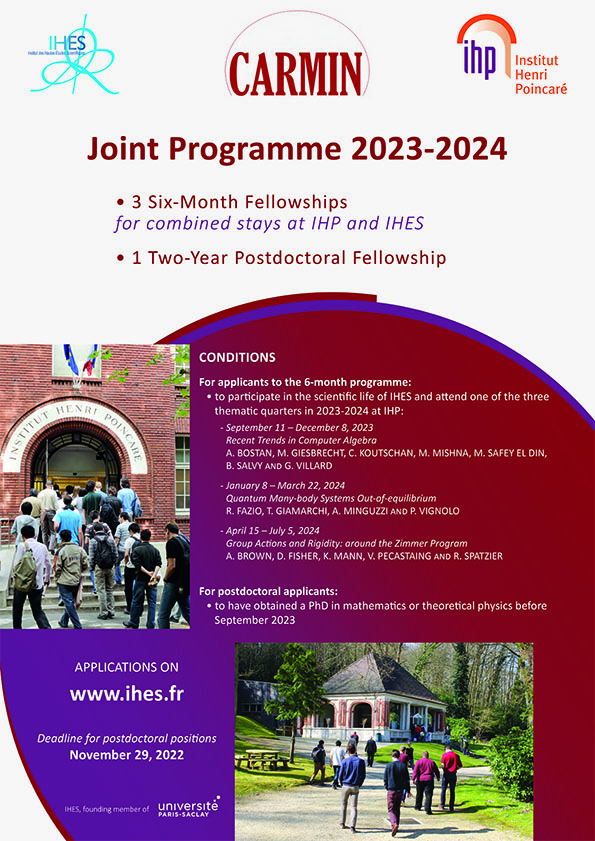 The CARMIN Project, created as part of the call for "laboratories of excellence" of the French Ministry of Higher Education and Research, aims at creating places where mathematicians can exchange and pool their skills in order to solve big scientific issues.
In the ­mathematics field, there are indeed a number of open scientific problems that cannot be solved by a single person. This "mathematical" infrastructure is essential for maintaining excellence in the French mathematical school at the highest international level.
Description
In the frame of the CARMIN project, IHES offers :
– 1 two-year postdoctoral position, with a possible extension for 1 year,  without any particular requirements for candidates having obtained their PhD in mathematics or theoretical physics before September 2023.
– 3 six-month positions
The laureates selected for these positions will have to participate in the scientific life of IHES and attend one of the 3 thematic quarters at IHP:
In 2023-24:
– 11 September – 8 December 2023
Recent trends in computer Algebra
Organizers: A. Bostan, M. Giesbrecht, C. Koutschan, M. Mishna, M. Safey El Din, B. Salvy, G. Villard
– 8 January – 22 March 2024
Quantum many-body systems out-of-equilibrium
Organizers: R. Fazio, T. Giamarchi, A. Minguzzi, P. Vignolo
– 15 April – 5 July 2024
Group actions and rigidity: around the Zimmer program
Organizers: A. Brown, D. Fisher, K. Mann, V. Pecastaing, R. Spatzier.
Contract details
–The laureate of the postdoctoral programme will receive
– a salary and full health coverage
– free housing in the IHES housing complex
– access to the cafeteria for lunch Monday through Friday.
– a travel allowance to participate in scientific activities related to the project.
–Laureates of the 6 month program will a receive
– a daily subsistence allowance
– free housing in the IHES residence
– free access to the Institute's cafeteria for lunch Monday through Friday.
– a travel allowance
HOW TO APPLY
All applications must be submitted online and should include the following documents: ­
– Duly completed registration form
– Curriculum-vitæ
– List of publications
– Short research project
– For postdoctoral applicants: 2 or 3 recom­mendation letters

Next call for applications (postdoctoral positions): Fall 2023
Deadline: 3 January 2023
Contact: carmin-application@ihes.fr