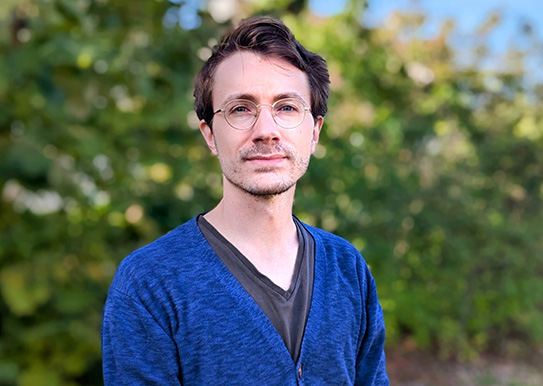 Arrival of a new junior professor
The Physics of Abstract Nonsense
Clément Delcamp joined the Institute as Junior Professor in Theoretical Physics on October 1st 2023.
Originally trained as an engineer in France, Clément went on to study theoretical physics in the UK and Canada. After finishing his PhD at the Perimeter Institute, he went on to work as a postdoc for the Max Planck Society in Germany, and Ghent University in Belgium.
In his research, Clément is bridging the gap between highly abstract mathematics (category theory) and condensed matter physics, aiming to better understand phases of matter.
A central motif in Clément's work is the notion of generalized symmetry. Guided by a modern viewpoint on symmetry in terms of topological field theories, it has become apparent that the usual notion of symmetry can be widely extended. In particular, this has allowed the extension of Landau's theory of symmetry-breaking to accommodate theories that were initially thought to fall beyond its scope. Just as ordinary symmetries are understood in terms of groups, the language of these generalized symmetries is that of fusion n-categories. Consequently, physicists have started to apply the machinery of category theory to understand the role of symmetry in physical systems, broadly speaking.
Clément in particular now applies the tools he has been developing in the context of topological field theories to symmetric theories in the discrete setting. Ideally, he aims to construct a dictionary between (higher) category theory and condensed matter physics. One of his tools in shaping such a dictionary are tensor networks, a concept he studied with leading experts in the field: Guifré Vidal, Norbert Schuch and Frank Verstraete. Broadly speaking, tensor networks offer an efficient way of parametrizing states and operators in quantum mechanics. The key idea underlying tensor networks is that many large physical operators can be efficiently obtained by gluing together small building blocks. The decomposition of an operator hides a lot of physical information. Coupled with the intuitive graphical representation of tensor networks, this approach has enabled to reveal the physical interpretation of seemingly obscure category theoretic constructions. This feature is particularly striking in (3+1)-dimensional systems. While significant progress has been made in the (2+1)-dimensional theory, the situation in (3+1) dimensions remains even more mysterious. Building on ideas first developed by John Baez, it is widely believed that physics in n dimensions is governed by n-categories.  Accordingly, transitioning from (2+1) to (3+1)-dimensional systems should involve a sort of categorification process within the realm of mathematics. Part of Clément's research amounts to trying to understand categorification in the context of condensed matter systems.
At IHES, Clément is enthusiastic about continuing his research in between physics and mathematics. Since his arrival, he has already engaged in discussions with mathematician Edmund Heng, who recently proved a generalized version of Gabriel's theorem within the framework of fusion categories. Additionally, Clément plans to collaborate with Slava Rychkov to resume his work on tensor networks and renormalization groups.