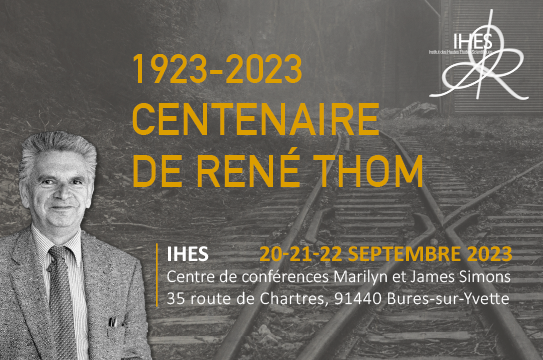 1923-2023, the centenary of the birth of René Thom
The year 2023 marks the centenary of the birth of René Thom, a permanent professor at IHES from 1963 to 1990. On this occasion, IHES organizes a three-day conference on September 20, 21, and 22, 2023.
Several presentations will be given by lecturers during this three-day:
Norbert A'Campo, Univ. De Bâle
Daniel Bennequin, Institut Mathématique de Jussieu (IMJ-PRG)
Alain Chenciner, IMCCE/Observatoire de Paris
Antoine Danchin, Institut Pasteur
Ivar Ekeland, Université Paris-Dauphine
Sara Franceschelli, ENS Lyon
Emmanuel Giroux, CNRS et ENS

Mikhail Gromov, IHES
Krzysztof Kurdyka, Université Savoie Mont Blanc
Cherif Matta, Mount Saint Vincent University, Halifax, Canada
Jean Petitot, EHESS
Oscar Randal-Williams, Université de Cambridge
Ana Rechtman, Université Grenoble-Alpes
Dennis Sullivan, City University of New York, Graduate Center                     
Bernard Teissier, IMJ-PRG
Wolfgang Wildgen, Université de Brême
Scientific Committee: Marie-Claude Arnaud, IMJ-PRG, Marc Chaperon, IMJ-PRG, coordinateur, Antoine Danchin, Institut Pasteur, Yakov Eliashberg, Stanford University, Maxim Kontsevitch, IHES, Cédric Villani, Université Lyon I & IHES.
Registration and information on the dedicated web page.
A colloquium is also organized on September 19, 2023, at the Académie des Sciences, from 2:30 to 5:30 p.m. which will explore the intellectual legacy of René Thom (registration).