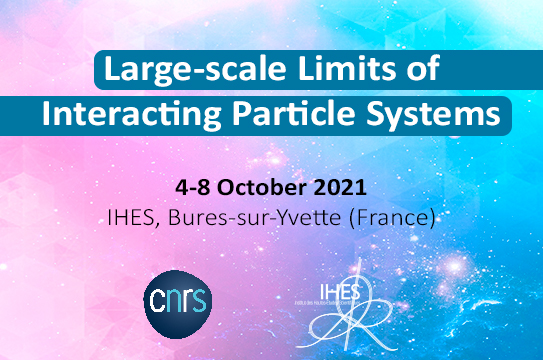 Conference "Large-scale Limits of Interacting Particle Systems"
The conference was held at IHES depending on the evolution of health situations and related restrictions.
The conference "Large-scale Limits of Interacting Particle Systems", took place in the Marilyn and James Simons Conference Center from October 4 to 8 2021, and simultaneously on Zoom.
It was organized by Mitia Duerinckx (CNRS), Sergio Simonella (CNRS) and Raphael Winter (École Normale Supérieure de Lyon), with the support of the CNRS-Momentum program.
These five days brought together researchers interested in rigorous methods for the study of scaling limits of interacting particle systems.
The conference focused on three mini-courses, given by:
Mathieu Lewin (CNRS): "Mean-field Limits and Bose-Einstein Condensation for Quantum Gases";
Laure Saint-Raymond (IHES): "Statistical Description of a Hard Sphere Gas Dynamics";
Manfred Salmhofer (Institute for Theoretical Physics, Univ. of Heidelberg): "Diagrammatic Expansions and Renormalization in Quantum Dynamics"
The program also included one-hour talks given by:
Serena Cenatiempo (GSSI),
Charles Collot (Cergy Paris Université),
Sabine Jansen (LMU),
Jens Marklof (University of Bristol),
Alessia Nota (Università degli Studi dell'Aquila),
Peter Pickl (University of Munich),
Marcello Porta (SISSA),
Mario Pulvirenti (Università di Roma « La Sapienza »),
Nicolas Rougerie (UMPA),
Florian Theil (University of Warwick),
Bálint Tóth (University of Bristol).
To get more information on the conference program, and be informed of the latest measures taken, go to the dedicated web page.
Find all the videos of the conference: